Monday, December 5, 7pm to 8pm Bethany Methodist Church
Odd Mondays welcomes authors Peter Kupfer, Genny Lim, and Michael David Lukas on Monday, December 5 from 7pm to 8pm in-person at 1270 Sanchez Street (Bethany Methodist Church) in Noe Valley, San Francisco. Free admission. Masks required by the venue. One block west of the Clipper Street stop on the J MUNI.
Peter will read from his new historical memoir The Glassmaker's Son, Genny from her poetry collection Child of War, and Michael from his novel The Last Watchman of Old Cairo.
Books will be available for purchase and signing at the event and in-store and online with Folio Books San Francisco, 3957 24th Street in Noe Valley.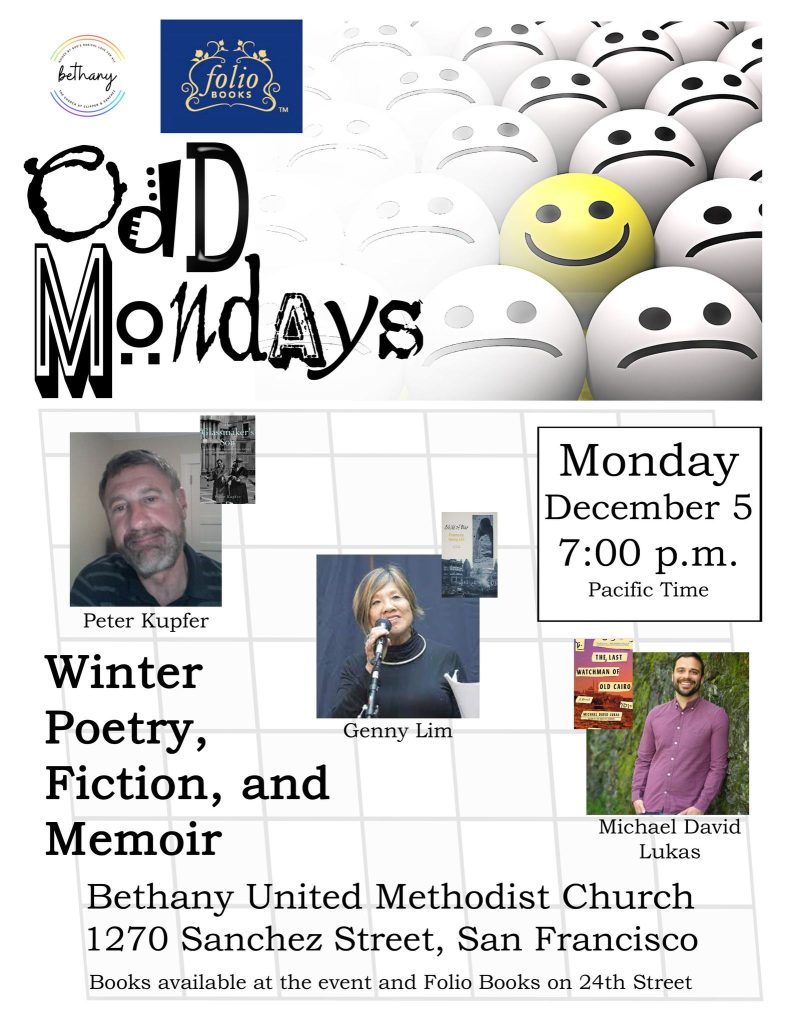 About the Authors
Peter Kupfer is a San Francisco-based writer, editor, and photographer. His stories about business and technology, the arts and culture, and other subjects have appeared in major newspapers and magazines, including the Washington Post, the Los Angeles Times, the New York Observer, and Metropolis magazine. He was a copy editor at the San Francisco Chronicle for many years. The Glassmaker's Son is his first book.
Genny Lim is San Francisco Jazz Poet Laureate emeritus. Lim's award-winning play, Paper Angels, was the first Asian American play aired on PBS's American Playhouse in 1985 and has been performed throughout the U.S., Canada and China. She is author of five poetry collections, Winter Place, Child of War, Paper Gods and Rebels, KRA!, La Morte Del Tempo, and co-author, along with the late Him Mark Lai and Judy Yung, of Island: Poetry and History of Chinese Immigrants on Angel Island, which won the American Book Award in 1980. Her recent anthology of Senior Asian American memoirs, Window: Glimpses of Our Storied Past, includes the stories of former World War II Camp survivors. Lim has worked with past Jazz legends, such as Max Roach and long-time collaborators, Jon Jang, John Santos, Francis Wong and Anthony Brown. She is a member of The Last Hoisan Poets with Nellie Wong and Flo Oy Wong, who recently collaborated with Del Sol String Quartet in the United States of Asian America Festival.
Translated into more than a dozen languages, Michael David Lukas' first novel The Oracle of Stamboul was a finalist for the California Book Award, the NCIBA Book of the Year Award, and the Harold U. Ribalow Prize. His second novel, The Last Watchman of Old Cairo, won the Sami Rohr Prize, the National Jewish Book Award, the Prix Interallié for Foreign Fiction, and the ALA's Sophie Brody Medal. A recipient of scholarships from the National Endowment for the Arts, Montalvo Arts Center, William J. Fulbright Foundation, and Elizabeth George Foundation. His writing has appeared in The New York Times, Wall Street Journal, Slate, National Geographic Traveler, and Georgia Review. He lives in Oakland and teaches at San Francisco State University.