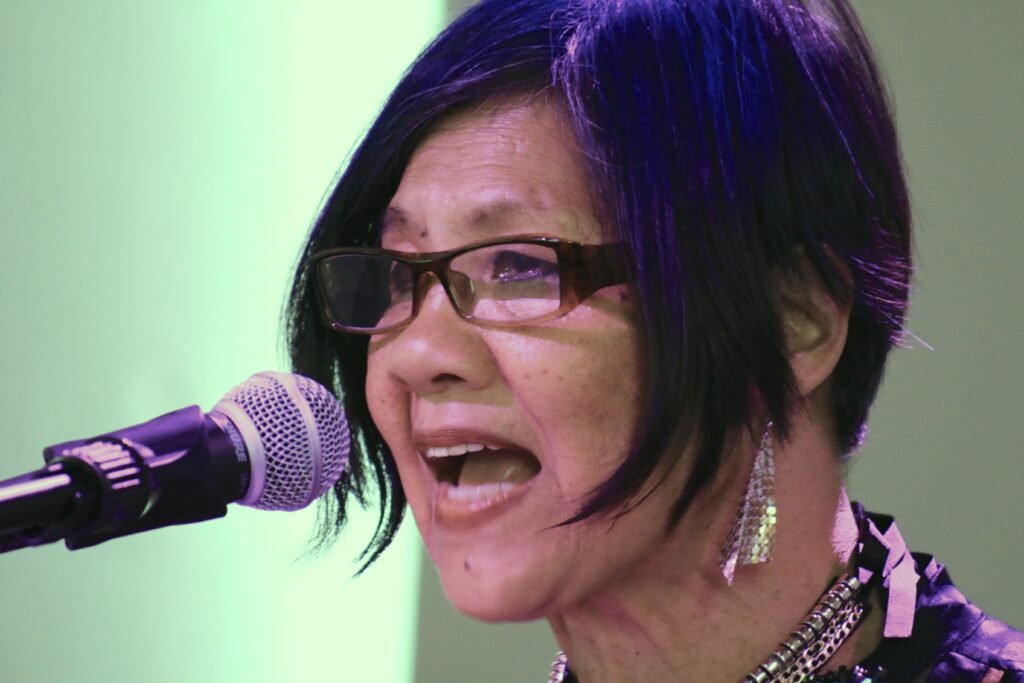 Genny Lim is a second generation Chinese American born and raised in San Francisco. As a former San Francisco Arts Commissioner under Art Agnos and Frank Jordan, she helped establish the Cultural Equity Arts program and Writers Corps under the auspices of the Arts Commission. She curated the Poetry-in-the Schools Program at the DeYoung Museum (1989-1993) and served on the faculty of New College of California (1987-2007), co-founding the Arts and Social Change Program.
Lim served as the San Francisco Jazz Poet Laureate from 2016-2018. Her award-winning play Paper Angels has been produced throughout the U.S., in Canada and China. Lim is author of five poetry collections, Winter Place, Child of War, Paper Gods and Rebels, KRA!, La Morte Del Tempo, co-author of Island: Poetry and History of Chinese Immigrants on Angel Island, winner of the American Book Award and editor of two Senior Asian American anthologies, From Both Shores and Window: Glimpses of our Storied Past. She has toured as a featured poet at International Poetry festivals in Bosnia-Hercegovina, Italy, Venezuela and the U.S.
Lim was awarded the Reginald Lockett Lifetime Achievement Award from PEN OAKLAND in 2021 and the Lifetime Achievement Award from the City of Berkeley at the Berkeley Poetry Festival in 2022. Lim has collaborated with jazz legends Max Roach and Herbie Lewis and Bay Area musicians, Marcus Shelby, John Santos, Francis Wong, Jon Jang, Anthony Brown and the Asian American Orchestra, Del Sol String Quartet and The Last Hoisan Poets. She has also collaborated with Gen Taiko, Lenora Lee Dance on librettos for Within These Walls and Dreams of Flight at the Chinese Immigration Detention Station on Angel Island.
She currently teaches the Senior Asian American Writers Class at the Japanese Cultural and Community Center of Northern California in San Francisco and an online workshop, Memory, Meaning and Memoir through Asian Pacific Islander Cultural Center (APICC).
Download Genny Lim resume HERE.
| | |
| --- | --- |
| Genny Lim, Jack Hirschman, Amiri Baraka, backstage at Yoshi's San Francisco. 2012. | Genny Lim by Bob Hsiang. 2014. |
| USAAF 2021: Angel Island Insight with The Last Hoisan Poets and Del Sol Quartet | Genny Lim, photo by Leon Sun |
| Jon Jang and Genny Lim: A Chinaman's Chance, A Choy's Chance. 2019 | Poetry Matters: SFJAZZ Poetry Festival 2017 |
| Genny Lim, Vince Gotera, Eddie Gale, Yusef Komunyakaa. San Jose Center for the Literary Arts, 1995. | Genny Lim performs in Jon Jang's "SenseUs!" for Festival 2000, October 1990. |
| | |
| --- | --- |
| Poetry Plaque on Brannan Street Light Rail Muni platform | Genny Lim, SF Jazz Poet Laureate, performs Max Roach's "Freedom Now Suite" at SF Jazz (2017) |
| Fan Set at the Asian Heritage Street Celebration Festival 2005 | Unbound Feet Collective Reunion at Laurel Book Store, Oakland, CA (2017) |
| Original Cast of Paper Angels premiere at Asian American Theater Company (1980) | Healdsburg Jazz 2021: A Celebration of Maya Angelou |