Sat., October 15, 2022
Noon to 4:30 p.m. • Free
Festival Main Stage • Martin Luther King, Jr. Civic Center Park • Berkeley
Genny Lim read poems about Water, Wildfires and War and sang Jim Pepper's "Witchi-Tai-To" and "Besame Mucho," accompanied by the Barry Finnerty Trio, featuring Finnerty, Akira Tana on drums, with bassist Peter Borshay, on the Festival Main Stage at Martin Luther King, Jr. Civic Center Park in Berkeley, California.

Barry Finnerty, Genny Lim and Akira Tana at the 2022 Watershed Poetry Festival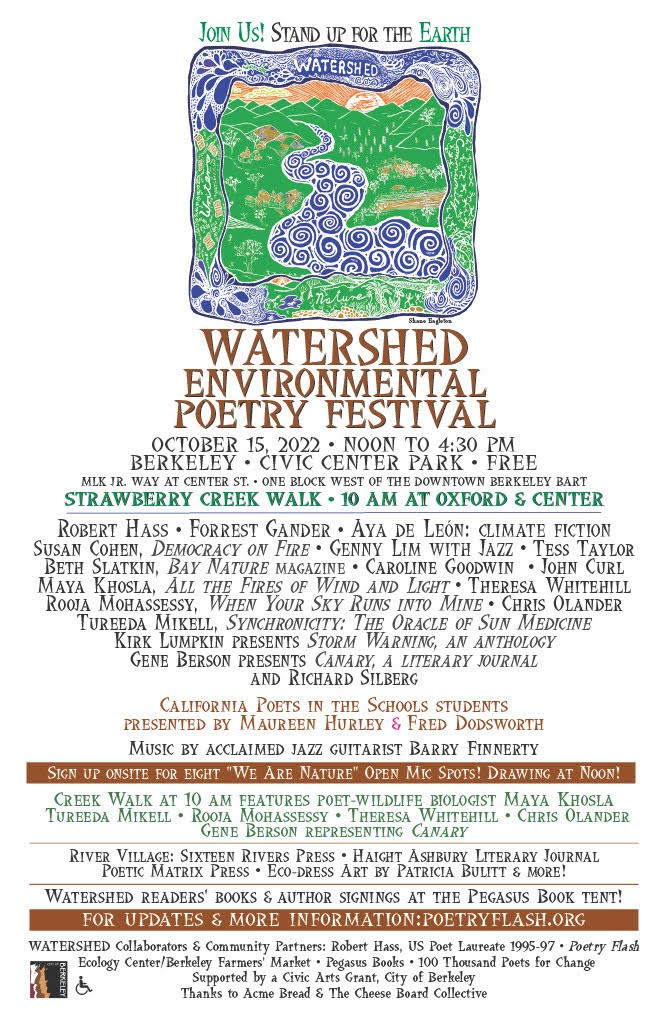 Watershed Environmental Poetry Festival is a collaboration of Robert Hass, Poetry Flash, Ecology Center/Berkeley Farmers' Market, and Ecocity Builders. The Watershed Festival emerged from Robert Hass's national Watershed initiative during his tenure as U.S. Poet Laureate, 1995-97, which explored connections between environmental awareness and the American literary imagination. The first two Watersheds were held at the Bandshell at Golden Gate Park, San Francisco.