Genny Lim receives the Berkeley Poetry Festival's 2022 Lifetime Achievement Award.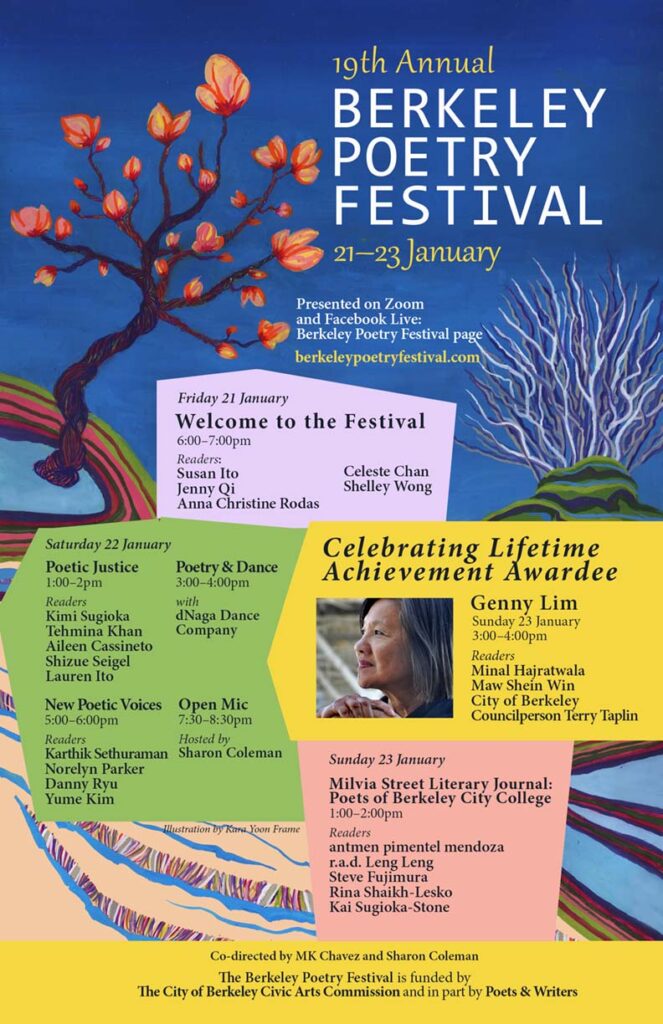 Poetry & Dance with dNaga Dance Company
Join the Live-streamed Festival via Zoom or on the Bay Area Poetry Festival Facebook page on Saturday, January 22, from 3:00pm-4:00pm, for poetry and dance with dNaga Dance Company, featuring recorded poetry readings by Genny.
Saturday, January 22, 3:00–4:00pm • https://us02web.zoom.us/j/82962508028 • On Facebook Live
With special thanks to Claudine Naganuma, Artistic Director of dNaga Dance Company — a unique ensemble made up of multi-generational dancers including young artists, professionals, and elders. Through workshops, classes, choreography and productions, the dance company explores the nature of our human condition and its relationship to our greater community.
Lifetime Achievement Award and Reading
On Sunday, January 23, from 3:00pm-4:00pm, enjoy readings by poets Maw Shein Win and Minal Hajratwala, and the presentation of the Lifetime Achievement Award to Genny by City of Berkeley Councilperson Terry Taplin.
Sunday, January 23, 3:00–4:00pm • https://us02web.zoom.us/j/82344447103 • On Facebook Live
The Berkeley Poetry Festival is funded by the City of Berkeley Civic Arts Commission and Poets & Writers